Green Products
Fafco Solar Panels
Solar is the most economically attractive option for heating your pool and extending your swim season. Compared to systems that run on electricity, fuel oil or propane, FAFCO systems feature:
The shortest payback period and highest return on investment
The lowest operational costs due to free solar energy
The longest lifespan, thanks to the components that neither move nor corrode
The lowest maintenance costs—minimal, if any
The cleanest, safest and quietest source of energy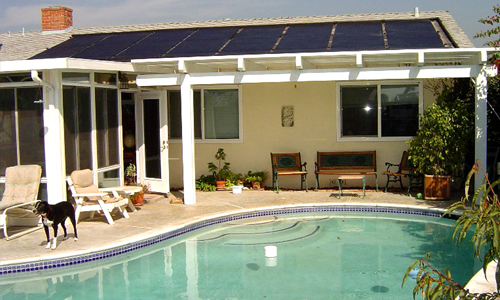 Pentair Intelli-Flo Energy Efficient Pumps
It is adaptable to any pool, spa or water feature application. With its onboard computer, your pool professional simply programs the rate of flow to suit the application. It can be programmed to manage multiple functions. And, it automatically sets itself and adjusts as needed since it is constantly monitoring water flow and electrical current. An Eco Select(tm) Choice: Standard pool pumps can consume as much energy as all other home appliances combined–often costing more than 1,000 per year! IntelliFlo(r) VF High Performance Pump pumps can typically cut energy use by 30% to 90%, generally saving 324 to 1,356 in utility costs annually.
Hayward EcoStar™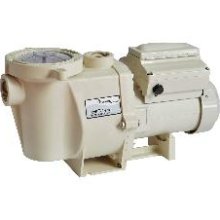 With Hayward's new EcoStar's family of pumps, money flows back into your pocket. EcoStar is the industry's most energy efficient variable speed pump, thanks to a super-efficient permanent magnet, totally enclosed fan cooled (TEFC) motor and industry leading hydraulic design. Tests prove that EcoStar can save you up to 75% on energy costs compared to ordinary single speed pumps. EcoStar matches pump flow to a pool's needs, versus running at full power 100% of the time.
You can save significant time and money by installing EcoStar, without having to buy additional equipment or accessories. It's fully programmable with a self-contained 24-hour clock and up to 8 custom speed and timer functions that allow EcoStar to manage flow throughout the day. EcoStar can alternatively be controlled by Hayward controls such as Pro Logic® and OnCommand™ or third party controls. Whether used in new construction or aftermarket applications, EcoStar is the perfect choice.
Jandy Water Colors Large LED Stainless Steel Light
Jandy Water Colors Large Led Stainless Light 50′ Cord 120 V WaterColors LED energy-efficient pool and spa lights provide beautiful, bright colors for your pool and spa with minimal power usage. Utilizing Color Kinetics(r) technology, our eco-friendly LED lights saturate your pool and spa with three dazzling, primary colors; Cobalt Blue, Magenta, and Emerald Green, as well as six blended watercolors like Caribbean Blue and Violet. Jandy WaterColors LED pool lights also come with five color shows to choose from such as festive "Fat Tuesday" or "America the Beautiful".
ChlorKing Generators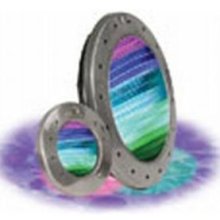 ChlorKing®Incorporated, the leader in saline (salt) chlorination, is proud to introduce an exciting, safer and more economical way of maintaining swimming pool and spa water. This revolutionary method of water treatment has completely changed how pools and spas are maintained. No longer is it necessary to handle hazardous chemicals or struggle with large, bulky and heavy containers. The ChlorKing® system totally eradicates the need to purchase expensive chlorine.
ChlorKing®has developed a patented, on-site hypochlorite generator (chlorinator) that removes the need for expensive and potentially unsafe compounds. We manufacture, distribute, and install these generators as part of overall systems for the chlorination of all sizes of swimming pools and general industrial water treatment. The ChlorKing® system has been effectively used in many applications abroad for over 20 years.
We are proud to announce that ChlorKing® has received accreditation from the National Sanitation Foundation for all models of chlorinators that we manufacture. The registered NSF certification Mark on a pool, spa, or hot tub system component confirms that NSF has assessed – and certified – its conformity with the relevant section of NSF/ANSI standard 50 and UL 1081. In addition, NSF audits each authorized production facility to assure that certified products continue to comply with the appropriate requirements of the standard.
Speck VFD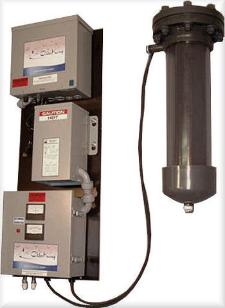 Variable Frequency Drive
Speck offers a complete line of variable frequency drives by WEG. Speck's VFD increase pump performance and are the perfect match for Speck's commercial pool and spa pumps. Speck's VFD can be used in various applications were pump performance can be improved by optimizing motor speed, saving money, energy and time.
Features
Plug and play philosophy: You can connect it, start it up and use it.
USB Connection port: Operates in Windows environment for command and monitoring.
Human-Machine Interface (HMI): Large backlit graphic display and soft keys makes set-up and programming smooth and intuitive.
Guided Start-Up: Simplifies initial programming.
Automatic data storage: A superior system function called "Trace" helps at start up and with trouble shooting.
Built in memory card: Allows operators to create special functions for the pump.
Real time clock feature.
Motor overload protection in compliance with IEC 60947-4-2/UL 508 C.
Space saving enclosures with outdoor rating options.
Senorless control permits high torque and quick response even at low speeds and at start up.
Internal cooling fan with speed sensor. Located in the bottom of the unit and can easily detached for easy cleaning and maintenance.
Motor and Drive are protected against voltage spikes phase imbalance and power surges.
Multiple Pump Control function by controlling the speed of one of the pumps while turning the others on and off according to demand.
Speck VFD accessories and options can be added easily.
The Speck VFD comes with a full 12 month warranty.